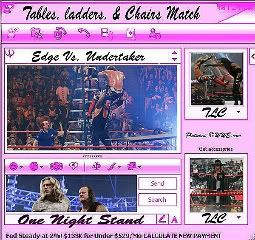 Here is my example using my fav wrestler...The Undertaker
from One Night Stand
remember to click on the picture for a better look.
Not too sure how these are gonna go over with you guys
This is just an experiment i thought id try
lol there are several basic colored templates in the zip just use your selection tool to add your pictures to the spaces for the pics
invert and delete on keyboard and you are god to go.
Enjoy These.
I was sitting here in instant messenger with a friend and got the idea.
Do Not Forget to scroll down on the right and sign up for my email updates.
You can download these from my 4-shared account